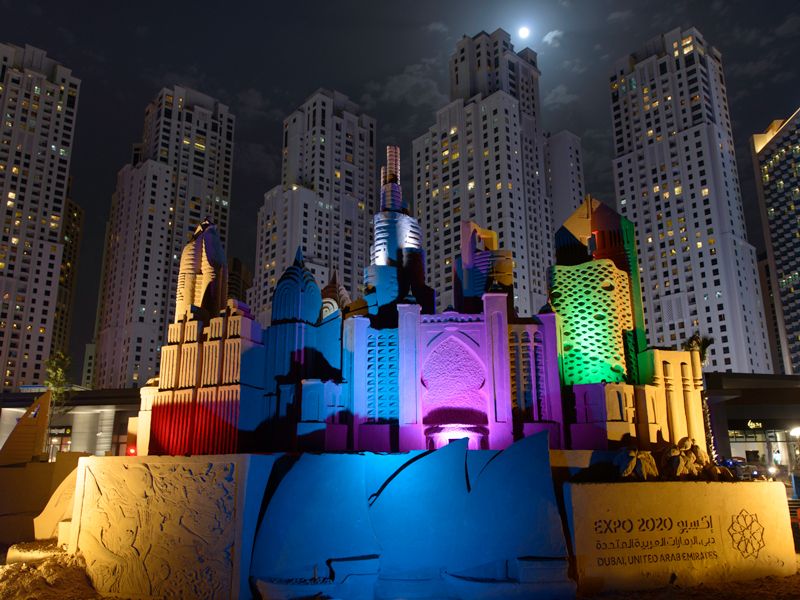 Expos are global events dedicated to finding solutions to fundamental challenges facing humanity by offering a journey inside a chosen theme through engaging and immersive activities. Organized and facilitated by governments and bringing together countries and international organizations (Official Participants), these major public events are unrivaled in their ability to gather millions of visitors, create new dynamics and catalyze change in their host cities. 
Millions of people gather at the global destination to share ideas, showcase innovation, encourage collaboration and celebrate human ingenuity.
What is a World Expo?
In general terms Expos are:
A platform for international dialogue in favor of progress and cooperation

An immersive and engaging journey into a key theme

A unique platform for public diplomacy and nation branding

A catalyst for change, and

A window of and to the world
Expo is organized under the auspices of the Bureau International des Expositions (BIE) and has four types:
World Expos

Specialized Expos

Horticultural Expos

Triennale di Milano

Expos
History of World Expos
The history of World Expos is almost a century old. The first-ever World Expo was held in 1851 at London's Crystal Palace and was named The Great Exhibition of the Works of Industry of All Nations.
The demand to create new economic links between nations in the face of the triumph of the free trade policy has given birth to the organization of the event. As a result of the efforts of Prince Albert, the husband of Queen Victoria, and the inventor Henry Cole, the Expo was organized in London with great success.
---
"I'm not saying there's nothing to see, but that there's too much to see," Charles Dickens said after visiting the exhibition.
---
The first Expo itself showcased Stereo photographs by the Scottish physicist David Brewster, vulcanized rubber by the American inventor Charles Goodyear, the so-called "Viennese chairs" by the Hungarian furniture-maker Tonet, the 1,720-kilogram ingot of crucible steel produced by the Krupp's plant. However, the most impressive section was dedicated to machinery where visitors could discover the railroad equipment from the UK and Germany, steam engines and American farm equipment, which was almost unknown in Europe.
After the huge success of the London Expo, it became a tradition to organize Expos as and when required under different theme categories. World Expos became the place where some of the amazing inventions were first introduced to the world which includes the telegraph in London in 1851, the typewriter in Philadelphia in 1876, the diesel engine in Paris in 1900, the color TV in New York in 1964, IMAX film in Osaka in 1970, and wireless trams in Yeosu in 2012.
The last World Expo was held in 2015, in Milan, Italy under the theme of "Feeding the Planet, Energy for Life". This also showcased inventions like solar trees and energy-saving elevators.

Destination of the next World Expo: Dubai
Dubai will be the destination for the next World Expo. It was announced by the BIE (Bureau International des Expositions, the international organization responsible for overseeing, regulating and selecting the candidate for the world fair) Member States during the General Assembly of 27 November 2013. Dubai won by a resounding majority with 116 votes, leaving Yekaterinburg, Russia, second with only 47.
The fireworks filled the sky in Dubai as they exploded out of the Burj Khalifa in front of thousands of smiling faces. The ruler of Dubai also announced a holiday for all educational institutions across the UAE.
---
"I am proud of our teams who earned this victory for Dubai with two years of hard work, dedication and commitment," Sheikh Mohammed bin Rashid, Vice President and Ruler of Dubai, said. "We renew our promise to astonish the world in 2020."
---
Dubai Expo 2020
Dates:
Opening Date: October 20, 2020
Closing Date: April 10, 2021
Timings:
Weekdays: 9 AM to 1 AM
Weekends & Special Days: 10 AM to 2 AM
Dubai Expo 2020 will welcome more than 200 international participants, including a record 192 countries. It will aim to connect nations, multinational corporations and millions of visitors from all over the world providing an opportunity to see future innovations, marvel at the unique architecture, experience diverse cultures, taste cuisines from all over the world, and enjoy live performances, art, and other entertainment. 
Through its theme, "Connecting Minds, Creating the Future", and its three sub themes – Opportunity, Mobility, and Sustainability – Expo 2020 aims to unlock the potential of each visitor while encouraging collaboration and presenting opportunities for all to make a difference towards the future development of humanity and our planet.
The Expo 2020 will be held at Dubai South district, close to Al Maktoum International Airport. The area will spread across 4.38 sq km and will have four entrances. A special metro route is also planned known as Dubai Metro Route 2020 which will have the capacity to transport 46000 passengers to and from the Expo site in under 16 minutes from Dubai Marina. 
Dubai Expo 2020 will have everything for you starting from art, music, and gastronomy to technology, architecture, and entertainment, simply a day will not be enough for you to engulf the charisma of the largest event ever held in the Arab world.
The country pavilions based on sub-theme of Opportunity, Mobility and Sustainability will showcase the interactive exhibitions and will have engaging content to explore the themes in a fun and entertaining way. Each Thematic District will also include performance spaces, innovation galleries, and art installations and outdoor gardens.
Regions Close to Expo 2020 Site
Dubai Marina, Dubailand, Dubai Creek Harbour, Dubai Hills Estate, Dubai Downtown, and Jumeirah Beach Residence are some of the areas around the Expo 2020 site which are already developed and are attracting tenants and investors.
Dubai South, Meydan City, Mudon and Town Square areas are close to Expo 2020 site and Al Maktoum Airport. They are predicted to be the next big downtown area. Already they are seeing a faster inflow of residents. Analysts and market players noted that residential properties near Expo 2020 site are garnering strong interest from end-users and investors due to strong rental returns, proximity to the exhibition's site, and more affordable rates.
"We can be optimistic about the growth of areas near Expo 2020 such as Dubai South, Meydan City, Town Square and Mudon in the next few years. They are well-integrated neighborhoods that already offer a high return on investment to investors. This could improve further when more handovers are completed and tenants have a wider portfolio of properties to choose from," said Haider Ali Khan, CEO of Bayut.
The 2020 Expo has been delayed until 2021. For those who cannot attend the Dubai Expo,  please see our for present Dubai property offerings.