As countries emerge from the global pandemic, it was considered many industries would be greatly impacted. Although real estate has been affected, the long-term outlook is looking better than first thought. In London alone, the market is showing considerable resilience making a comeback with investors and buyers snapping up property at cheaper prices. This is how the market naturally adjusts. Buying, viewings and sales are all back over time just as they have done in cities across China where the outbreak originated.
Is investing in off-plan apartments and properties in London right for you?
Off-plan property developments have been making waves in the London property market for quite some time now since the early 2000s. It has been the preserve of property speculators hoping to make money on the right property. In the current climate, off-plan apartments in London are ripe for the taking and developers are open to discounting.
Investing in off-plan apartments has many advantages. Even before the right property is completed, they can significantly increase in value after they are built. These below-market-value (BMV) prices are highly attractive to investors with the potential to make thousands in return. This is a tried and tested method for top property investors and they have been able to reap significant ROI rewards for years. Often, apartments are put up on the rental market, making a good steady income for buyers. London is one of the world's busiest capitals which attracts many people to work there, so rental properties will always be in demand. Look for construction developments happening near major tube and train stations and regenerated areas are bound to see an increase in value. For example, properties being built along Crossrail development could be considered as a potential lucrative investment.
Let's summarise the benefits of buying off-plan property and apartments in London:
Buying off-plan property at BMV discounted rates
Lower upfront costs and smaller deposits.
Buying a new un-lived in apartment or property ready for rental market
High appreciation with the right property
Since apartments are being built, they can be customised to the buyer's preferences
Considering that real estate prices in London have a tendency to rise faster than any part of the UK. There's no firm guarantees for property appreciation, however, apartment or residential property in London has always proved resilient after housing crash interruptions. The majority of risks can be offset by regulations such as a deposit guarantee being offered by most developers, for additional security and peace of mind.
When taking advantage of the benefits of off-plan property, all investors should do their due diligence. Investors should always seek advice and ONE Investments are ready to assist every step of way.
The ONE Investments have expert consultants with years of experience of the London property market.
Off-plan property attracts a number of local buyers as well as overseas investors. First-time buyers look to purchase one of the apartments from as low as £200,000
Here is a selection of our prime apartment properties in London:-
1 BEDROOM APARTMENT | THE RESIDENCE | 538 SQFT | MADEIRA TOWER | NINE ELMS | LONDON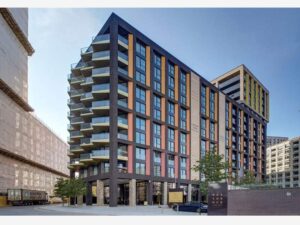 1 BEDROOM APARTMENT, ONE WEST POINT, ACTON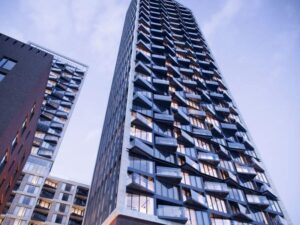 1 BEDROOM APARTMENT, 10 PARK DRIVE – CANARY WHARF
Our consultants are on hand to assist in answering any of your questions. Just contact us using our phone number (+44 (0) 203 911 5892 or +1 (646) 908 2628) or use our contact form here.