The rise in Dubai's property market is well evident from the data released by different sources. Dubai has registered a growth of 20% in the volume of registered property sales transactions on year on year basis, and the credit goes to new government policies which have boosted the sector, according to the Property Finder. In 2019, 41,988 transactions happened in real estate as compared to 34,961 transactions that happened in 2018, which hit the record of 11-year high and has benefited investors and buyers to cash in on lower property prices.
Top five area-wise contribution to the above record is shown below
Highest Overall Property Sales Transactions
Off-Plan Property Sales Transaction

Dubai Creek Harbour: 2,423

Downtown: 2,088

Dubai Hills Estate: 1,949

Dubai South: 1,942

Business Bay: 1,811
Secondary Market Property Sales Transaction

International City: 1,342

Business Bay: 1,335

Dubai Marina: 1,280

Jumeirah Village Circle: 1,108

Jumeirah Lakes Towers: 851
The attractive prices and different lucrative schemes such as waiving of service fees, a wide range of post-handover payment plans, discount on registration charges and commissions and guaranteed rental returns offered by developers have kept the off-plan properties on top of investor's preference list which has shown a total of 23,643 transactions in the year 2019. 
The increasing trend for developer sponsored payment plans for funding off-plan properties has resulted in several first-time home buyers getting on the property ladder who were earlier not able to afford the down payment stipulated by UAE Central Bank to qualify for a mortgage.
Last year, a total of 45,000 units were completed, which has made 2019 to top the list in comparison to the last five years in the highest number of units completed in one year. Dubai has also registered 18,345 transactions in the secondary market last year. If analysts are to be believed, rise in Dubai's real estate market is the result of measures taken by government such as formation of a Higher Real Estate Committee, collaboration between government-related entities and private sector firms, 10-year visas for investors and professionals, reforms to real estate laws in Dubai, which prompted investors to return to the market and the same trend will continue in 2020 as well.
As a result of new homes becoming thick and fast, developers are pushed to come up with innovative ideas such as rent to own schemes to make sure that ready units are not left with themselves. This has made the market perfect for buyers, with attractive prices, good deals and plenty of options to choose from.
---
According to Nazish Khan, chief operating officer at Fidu Properties, "From an investor's viewpoint, developers are offering heavy incentives to attract property buyers with increased preferences to buy instead of renting these days, with convenient long-term payment plans of five to 10 to even 15 years for a ready property. Developers are recognizing this trend and the need to entice tenants into investing in the properties and in turn offering them payment plans that are convenient and hassle-free. For investors, it makes perfect sense to invest in an area that offers the highest return on investment and long-term appreciation."
---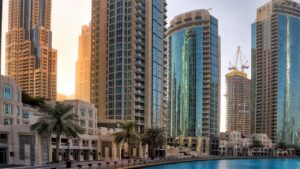 Dubai Marina, Downtown Dubai, and the Jumeirah Beach Residence (JBR) are popular areas for renting, have also contributed to making Dubai in an 11-year high property transaction and will continue to be Dubai's most sought-after communities among tenants. When ex-pats move to the city, these pillar communities are already familiar to them and reflect a vibrant and cosmopolitan life. Dubai Marina is a vibrant community and is very popular with tenants who are new to Dubai. The community caters to everyone with studio apartments for singles, an array of properties for couples and large apartments and a few townhouses for families.
Dubai Expo 2020 Impact on Real Estate Market
New announcements have been made by every popular Dubai property company in 2019 viewing the upcoming Dubai expo 2020, which has increased the sale of properties close including residents and foreigners.
---
"Due to the softened market conditions and buyer friendly terms, we have seen record transaction volumes, both in the off-plan and secondary markets. We expect buyer-friendly terms and heavily incentivized post-handover payment plans to continue over 2020, helping with the absorption of existing inventory," said the Prathyusha Gurrapu, head of research and advisory at Core.
---
"One of the key trends in 2019 were developers offering flexible deferred payment plans, eliminating the burden of bank financing for investors, leading to lower risk and an increase in investment appetite. In 2020, Foreign Direct Investment (FDI) is expected to rise, with developers continuing to offer appealing deferred payment plans and introducing direct and indirect marketing strategies to present all their available units to potential investors at Expo 2020," said the Aditi Hariharan, associate partner for strategic consulting and research at Cavendish Maxwell.
---
"Going into 2020 and leading up to the Expo, we should continue to see transaction levels increase and prices start to stabilize in certain areas. We have already started to see certain market dynamics shift as a direct effect from Expo and these trends will most likely continue throughout the year," says Lynnette Abad, director of data and research at Property Finder.
"There is a lot of new supply in the market that is priced affordably and as we get closer to Expo 2020, we have seen many consumers decide this is the right time to buy. This is an indication of consumer confidence in the market-leading to 2020," Lynnette Abad added.
---
Swapnil Pillai associate, research at Savills, told Arabian Business that areas towards the Expo site, like Dubai South – which include projects such as Emaar South and The Villages – as well as other projects like Villanova, Arjan and Damac Hills in Dubai South East, have been experiencing strong demand.
He said: "If we look at how that might amplify over the coming year, we will anticipate a continued uptick in demand for residential, particularly at the right price points and those that offer excellent quality and well-planned design."
"The upcoming Expo 2020 is adding to the business confidence of real estate investors, and there is positive traction in the market. More professionals and experts are taking up residence in the city to support the preparatory work, and all core sectors – including aviation, tourism, retail, hospitality, logistics, and financial services – are gearing up with new investments, which is ultimately energizing the economy," said the Kalpesh Kinariwala, founder and chairman of Pantheon Group.